Zum Bestellformular
1. Marty and his Rockin´ Comets – "Straighten Up And Fly Right" – Preis: EUR 17.- + Versandkosten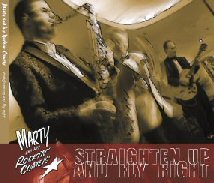 CD Tracks:
Sheik Of Arabie
Banana Split For My Baby
She´s The Most
Let The Good Times Roll
Tu Vuo´ Fa´ L´Americano
Fine Brown Frame
Cheek To Cheek
Straighten Up And Fly Right
Perfidia
Waterloo
You Can´t Stop Me From Dreamin´
Rocketship To The Moon
Yeah Yeah
Hey Then There Now
Boogie Woogie On A Saturday Night
Sweet Sue Just You
Five Finger Boogie
---
2. The Woodsidejumpers – Mini-CD – Preis: EUR 10.- + Versandkosten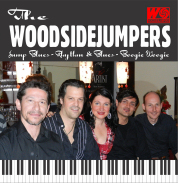 CD-Tracks:
1. Mercedes Benz (J. Joplin)
2. Hoochie Coochie Gal (Willie Dixon)
3. Crazy Little Thing Called Love (F. Mercury)
4. Hey Bartender (F. Dixon)
5. Faith (G. Michael)
6. Flip Flop And Fly (L. W. Turner)
---
3. Nat King and the Cole Brothers – Mini-CD – Preis: EUR 7.- + Versandkosten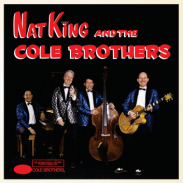 CD Tracks:
1. Route 66
2. You're The Cream In My Coffee
3. Besame Mucho
4. Sweet Lorraine
5. Hit That Jive Jack
Hörprobe – Querschnitt:
---
Diese CDs gibts jedoch nicht nur zum Bewundern auf unserer Homepage, sondern sie sind hier online erhältlich.
Die Versandkosten betragen innerhalb Deutschlands EUR 3.- pro Versand.
Natürlich haben wir die Scheiben bei unseren Auftritten dabei, aber Ihr könnt sie auch bequem übers Internet bestellen:
So gehts:
1. Das folgende Bestellformular ausfüllen und abschicken.
2. Ihr erhaltet daraufhin von uns ein Mail mit dem Gesamtbetrag inkl. Porto und unserer Bankverbindung für die Überweisung.
3. Nach Eingang Eurer Überweisung auf unser Konto, geht die Sendung an Euch raus.
Bestellformular: